Caol Ila 30 year old is a special release from the Diageo collection in 2014.  The oldest official bottling to date from the distillery.  A marriage of American and European oak.  Only 7,638 bottles worldwide.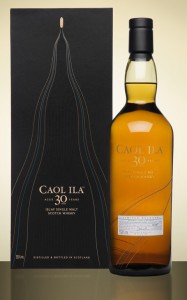 Nose: As we have come to expect from Caol Ila.  This 30 year old is very warm and bacon like.  With a bouquet of orange and lemon, and hints of vanilla which is very pleasing.
Palate: At first sip it commands respect and reminds you that you have a dram of a fine single malt!   As it sits it begins to mellow and the ashey peat begins to peak thorough followed by the citrus undertones that come through on the nose.
Finish: Is one that can be summarized in one word… AWESOME!!! This mouth coating ,well rounded flavour house, is one which has to be enjoyed with a sophisticated palate and a fine cigar .
Overall 9/10.  I would still recommend an eye drop of water just to really open it up.  Anyone would be privileged to have it on their bar.