First impressions of the Craigellachie 17 are definitely enticing. With a very light amber color and sweetness on the nose, this malt presents you with long, enduring legs on the glass. The nose itself yields a caramel or perhaps toffee coming to the forefront.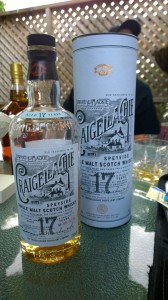 Letting the first sip roll around the mouth, the first thing that really stood out was the somewhat uncharacteristic warmth that comes from this Speyside. Not overpowering at all, the palate also presents you with the same sweetness found on the nose, which slowly evolves into a bit of smokiness, and a bit of spice too (pepper maybe?), though all in excellent balance.
The finish is mid length, with the warming lingering only slightly. The harmony of flavors stays around long enough for you to enjoy, and begs for another sip.
My recommendation to best enjoy a dram of Craigellachie 17 is to drink it neat, outside on a cool night at the beginning or end of summer, and let all of your cares fade away with the warmth of the first sip.