Expensive Taste KW was privileged enough to host a private tasting with Stalk and Barrel Whisky, by the Still Waters Distillery in April 2017. While Barry and Barry could not attend due to some last minute issues our host took us through the wonderful spread of Stalk and Barrel Whiskeys.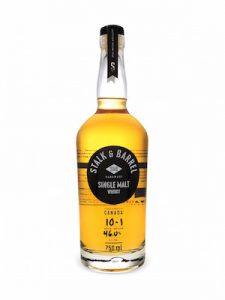 The Black Label Canadian single malt whisky was one of the highlights of the tasting session.
Made from 100% Canadian two-row malted barley they mash, ferment, and distill by hand in small batches in a copper pot still. The whisky is then aged in ex-bourbon casks on site for a minimum of three years.
Knowing that this whisky was only a few years old made me a bit apprehensive before the tasting. Normally single malt whisky's are allowed to percolate for a decade or more to enhance and bring out the flavors of the spirit. New spirits typically don't have the breadth of flavor that older spirits do so I was pleasantly surprised by the flavors during our tasting.
Pale straw in color, the whisky looks a little bit oily in the glass, with the legs slowly running down the sides of the glass when nosed. Initial flavors from the nosing would make this whisky seem a little bit immature, but those thoughts evaporated upon the first sip. This whisky has great earthy flavors, picking up barley and grassy undertones. It reminded me of being in a freshly cut hayfield in mid-summer. As the spirit spills around the tongue you can also pick up hints of sweetness, with a touch of butterscotch. As it heats up your mouth and tongue it gives you the fire of a young single malt. The fire lasts for a bit before fading away with a dry finish.
Overall for a young spirit it has surprising depth of flavor. It has intrigued me enough to warrant adding a bottle to my personal collection to continue to decipher the flavors and nuances of a made in Ontario single malt. The Still Waters Distillery is trending in the right direction and most likely their whiskeys will only get better with age.