For those who want a quick trip to a buzz and to have a unique ride there, this may be the spirit for you! The Aultmore 18 year old is in between a regular 40% scotch and a cask strength. At 46% Aultmore delivers a whiskey that has an alluring golden color (from maturing in bourbon casks I'm guessing), a mellow nose, and a palate that builds like cayenne pepper.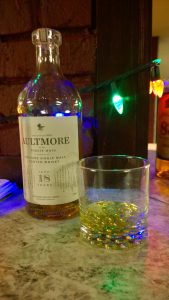 The mellow nose on this spirit left me curious how the palate would present itself. Breathing it in, I picked up faint sweetness, pinpointing it to vanilla & caramel. I didn't really find much else in it, especially noting an absence of the sharpness that can accompany a higher proof whiskey. I also didn't pick much warmth out of it either.
Diving in and taking a sip, the first impression was that it was light, but briny, and had a very quick finish. This seemed to be a fitting conclusion given the nose of the scotch. But there was more there than it initially presented. The second and third sips gave way to a building spice and warmth, though I found the finish refused to linger, and lasted less than half a minute or so.
But as I mentioned earlier on, I likened this scotch to cayenne pepper. With each sip, the spice built. The warmth built. And my enjoyment of it built too. I like this scotch for it`s easy going nature and the fact that its character builds over time. I think to truly enjoy this you would need at least 2 glasses to let it evolve BUT at $180, I don't know that I would add it to my bar. It's a unique scotch in the way it unfolds itself to you, but at that price I'd prefer more complexity of flavor. The fact that the flavors build is a unique trick for a scotch in my experience, so it all comes down to what you`re looking to get from a $180 bottle, and I can't weigh in on that.
My conclusion is that I loved the scotch, but not the price though I'm glad I got to sample it.