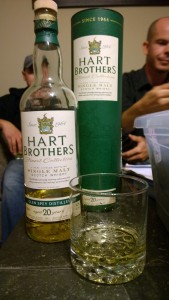 I believe this was our first taste of Hart Brothers and it did not disappoint. This golden liquid was quite soft on the nose but offered quite the invitation with hints of toffee, fruits and honey. It was one of those smells that gives you the sense of deja vu.
The taste was the highlight of this experience – it also emphasized the complexity of the palette as discussions during the tasting identified varying characteristics. I found heavy tones of caramel and toffee with a spicy finish that instantly warmed the belly.
Overall, this scotch seems as though it would continue to impress with each ounce. Definitely a bottle that you could sit down and have a few glasses with – although at $175 – it would most likely need to be a special occasion – two thumbs up!