GlenDronach 18 Year Old Tawny Port Finish
Colour:
The colour is almost caramel in appearance due to the finish in the port cask
N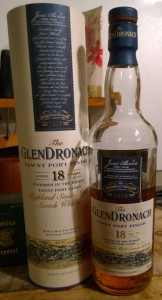 ose:
The nose is fruity and fudgy with hints of pear, cherry, and caramel fudge coupled with spice notes of cinnamon and nutmeg.
Taste:
The fruit shines through with notes of cherry, pear, and roasted apple and combines with caramel, making the taste quite sweet and syrupy with a wisp of smoke to be had.  The flavor lingers on the tongue before releasing into a slow dry finish.
Overall:
I would rate this as a 7.5/10, quite a good scotch, but maybe not worthy of adding to a personal collection.