The Dalmore 15 from the Highland region of Scotland, matured for 13 years in American white oak and then for a further year in a combination three styles of sherry wood (Matusalem, Apostoles, and Amoroso), definitely showed signs of this on the nose. This was the first Dalmore that the club has sampled and it did not disappoint.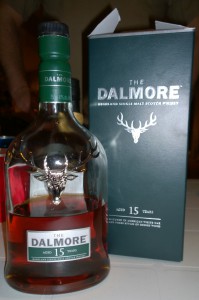 Known for their orange overtones, you could understand this as the first sip hits with a blast of citrus flavour. With the additional year of sherry cask maturation, it smoothes out the citrus with what you would typically find in a more mature smooth sherry finish. After the initial taste, this dram does show some heat but finds a way to warm nicely as you finish it off. The finish was medium-long and brought in some additional flavour including a note of vanilla.
This moderately priced bottle for one of its class is one to be added to your collection, if you enjoy a nice warm whisky near the fire on a cold winter's day, but has a hint of summer as shown by its citrus flavour.