The Balvenie 14 Caribbean  Cask – extra matured rum casks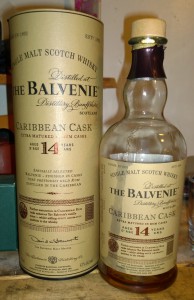 Nose-
The aroma off of the Balvenie is quite lackluster.  With only hints of rum, then coming to a close with subtle sweet undertones (toffee, vanilla). Just that, short and sweet.
Taste-  As it over takes your tongue, it brings a butter oily texture, which is rather unsuspecting.  Following right after is the rum cask.  And as fast as it came it was gone, leaving you with only some sweet toffee.

Finish- It was clean. I don't know what other then that. No heat, no smoke or peat, no lasting lingering aftertaste.
Conclusion- I was not overly impressed with this scotch.  It just didn't live up to my expectation.  If I was you, I'd find a friend that has it and convince him to let you try it.  My final thoughts are; weak sauce.