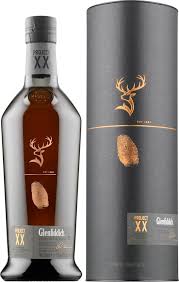 Tasted September 29, 2017
Nose: Classic intro, mostly on fresh orange juice, ripe apples, apricot jam and a hint of pineapple sweets. Juicy barley, with golden raisins and hints of cinnamon. Some lightly toasted oak in the background, with some nutmeg.
Mouth:  Sweet and spicy. Again some beautifully fruity notes, slightly darker now (oranges, stewed apples but also dates). Hints of caramel and milk chocolate, with light nutty notes. Citrus peel. A little pepper and an oak flavoured twist.
Finish:  Medium long, drier, mostly on spices (European oak) and slight leafy notes.
XX is well composed. It starts fruity and summery on the nose, becomes more leafy and sherried on the palate, with growing oak. Different characters of Glenfiddich in one dram, an interesting mix for the adventurous drinker.