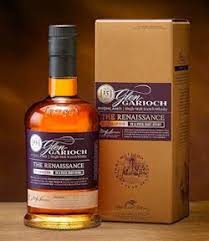 Notes and review by member Derek Kursikowski
If you're looking for a drink that has as many tales as it does flavours, this scotch whiskey is it. The notes on the box offer quite an embellished description of what to expect of the first sip from the glass. This 15 year old is the first in a four 'chapter' series originally distilled from the same batch to be released sequentially after 15 through 18 years of maturing.
Part scotch, part experiment this will answer the age old question, "What if this had been matured for just one more year?"
Colour – The distinct red hue indicative of a sherry cask is the most notable characteristic of the overall appearance, but isn't deep and dominating. As the amber liquid is swirled around the glass it leaves a faint sheen on all it touches, which develops into slender legs as it settles. Like waking up from a slumber only to have the faint recollection of a dream, this scotch leaves a faded memory that only moments before it was dancing upon the side of the rock glass.
Nose – I tend to linger on nosing scotch since it is one area of proper tasting that I'm working to develop. Spice. Heavy, but not overpowering, the first breath is dominated by spice with a softer undertone that is familiar, but hidden within the layers. Multiple slow, and deep breaths are best to fully develop the nose of this scotch to explore the all facets it has to offer. Soon those undertones are unlocked, revealing a hint of underlying creaminess like butterscotch, vanilla or maple.
Taste – First taste is light and smooth on the tongue with a subtle build that quickly brings on a dominate heat as it passes over the palate to the back of the tongue and down the throat. The spice is enough to momentarily take your breath away, almost appearing in an instant to warm your insides.
Finish – In the finish the heat vanishes quickly, but not as sharply as the rise of its coming, leaving vague remnants that it was ever there. With lingering toffee or maple, the finish is crisp and dry, leaving the mouth ready for another taste.

Final thoughts – The aim of a series is to entice you to follow along until the end, some of my fellow Expensive Taste members agreed that the entry price point was a little steep considering the distillery is most-likely attempting to get a multi-bottle commitment from the consumer. Monetary wise, buying all four would put you in the company of some great bottles. Taste wise this was near the spicier end of what I prefer. I struggle to recommend this as a stand-alone bottle partly because of my curiosity towards what the other chapters might offer. That being said any serious connoisseur would be drawn by the allure of being able to follow a single batch as it matures over several years, as am I.
#GlenGarioch #whisky