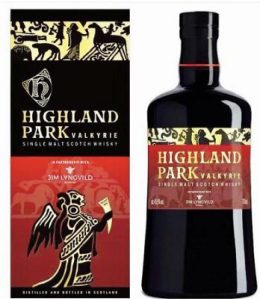 Highland Park Valkyrie was reviewed by Michael Bridgman:
Valkyrie is the first of the Highland Park viking legend series. A valkyrie is an angel who came down from Valhalla to take a fallen warrior off the field of battle to Odin. Hence the black bottle representing death.
On my initial smell I got a light fruity aroma of a fresh peach, with some vanilla and a slight hint of peat, a very traditional highland park aroma. But i was still a little surprised by this since it was a medium to dark in colour.
My taste palate is always a little different from most people,  but I did get the fruity vanilla taste, the peat was less than i expected, it was not at all overwhelming and I could have used a little more of it. I also got nutty flavours in the aftertaste. It is a very nice flavour that I persoanlly loved, thus my glass was empty far too quickly.
I really like the story and the art work of the bottle. I am also a fan of highland park for many years now. I liked the flavour and aroma of the this scotch it's a very well rounded and complex, my only complaint is at $100 for the bottle is that with the great flavour and short after taste the bottle could be gone very quickly and I'd be shelling out for another in short order.
Some additonal notes from the HP website.
NATURAL CASK-DRIVEN COLOUR
(NO ADDITIVES)
Fiery amber
Average colour tint 9.6
FLAVOURS
Green apples | Sun-ripened lemons | Oriental spices | Vanilla | Preserved ginger | Dark chocolate | Salty liquorice | Warm aromatic smoke