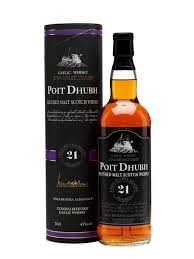 Tasting Notes and review by member Frank Bester.
Poit Dhubh 21 Year Old Skye
Colour: Dark amber
Nose: A balanced, amusing and plush whisky with aromas of sherry, vanilla, cinnamon and a hint of peat.
Palate: I don't go crazy for heavy peat scotches, so this was a delight at our yearly Halloween meeting. There wasn't a huge hit of peat and it didn't burn when taking a deep smell though the nose. I haven't figured out what it reminds me of, but I love this aftertaste. This, combined with the fact that the peat note is turned down quite a bit makes this whisky far more enjoyable for me.
Finish: It was quite pleasant to sip with mild hints of peaty smoke, very little burn as it coated your throat politely.
Overall: This scotch was a delight, one of the reason I volunteered to write this review. If your looking for a scotch to sip on by the fire after a cold day battling the Canadian winter, this scotch is for you. Also, compared to other 21 years old scotches the price is rather low. If you have an opportunity to add this bottle to your collection, it's a definite must!
#PoitDhubh #whisky
Poit Dhubh, pronounced 'potch ghoo' and literally meaning 'black pot' is Gaelic for an 'illicit still', the traditional source for some of the most respected whiskies. Poit Dhubh is a fine unchilfiltered blended malt, bottled at 8, 12 and 21 years old.  It is matured in sherry casks and has a soft, graceful flavour with a varying balance of sweetness and peatiness depending on age.