To best appreciate Jamieson's Cooper's Croze one must pair it with the story of how this light amber spirit journeys from still to bottle. Jameson has released a special trio of spirits inspired by those in the distillery who are masters of their craft (distiller, blender and cooper).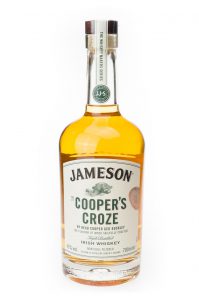 Cooper's Croze was created under the direction of the distillery's 5th generation master cooper. It celebrates the influence the choice of casks has on the final spirit we all happily enjoy. This can be seen by the naturally light colour that lets the barrels speak for themselves. Before making it to the bottle this sprit has a long journey through several barrels as it ages for 15 years. It starts n virgin American oak moving to second fill bourbon until finishing in Sherry barrels. The sprint's journey is elected in is taste, as it starts robust and full up front and mellows as it makes its way past your chest.
It is light on the nose and imparts flavours of toasted wood, dried fruit and subtle sweetness.
At $100 this is not an Irish whiskey to be drowned in coke. It drinks smoothly all on its own and would be a fine addition to anyone who is looking for a more refined bottle of Irish whiskey.