Edradour Caledonia 12 Year
Highland Single Malt
Bottled at 46% ABV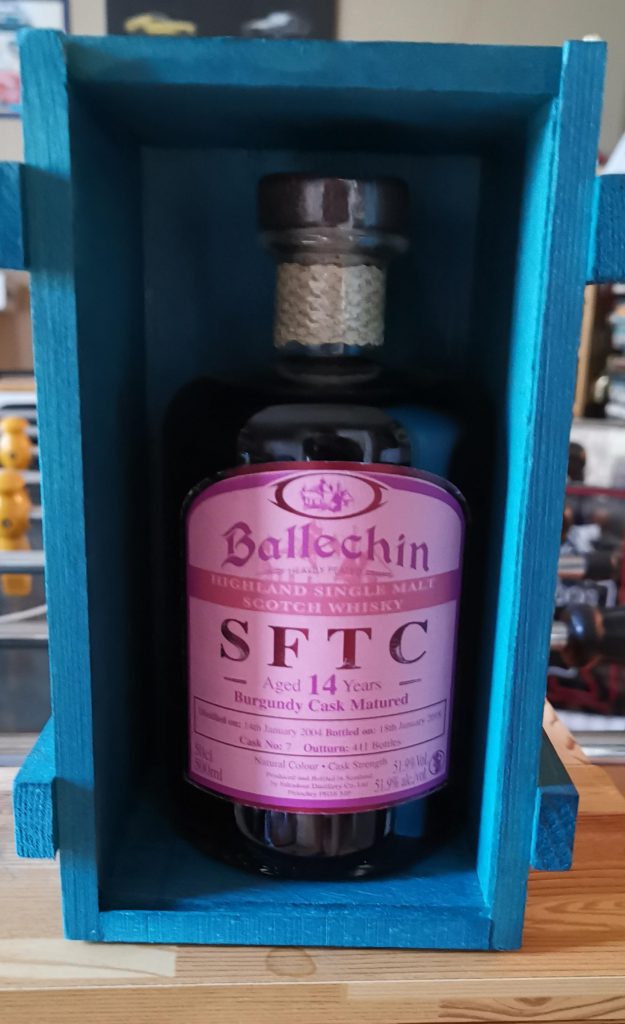 Our club recently sampled the Edradour Caledonia. Edradour is a distillery I always look forward to sampling. If my blurry memory serves me, the Edradour 10 was the first whiskey I ordered while i was in Scotland at the Speedwell pub in Dundee. They also have a surprising number of offerings given their small size.

The nose has a complex floral, fruity aroma. It's definitely evident that there's a lot going on here. Overall it presents itself as sweet and clean on the nose but certainly exerts its presence.

On the palate the sherry finish was evident. This came together with the fruit that was on the nose to again deepen the character. The long legs that you'll note in the glass really lead to coating your mouth.
The finish develops in a lengthy way. The heat creeps up on you and hangs out for a while but not in an overpowering way while things dry out a bit and the flavors from the palate fade.For the price I think this a pretty enjoyable spirit. I think this would land well with most whiskey enthusiasts. There's nothing mind blowing, but there's really nothing objectionable either. It's enjoyable dram which does perhaps get too warm for a summer night poolside which is where we sampled it. But as a springtime whiskey I think the floral & fruity clean nose this has would make you want to enjoy it outside. If this were readily available in Ontario, this would certainly be in my bar by now.
Ballechin Edition
Aged 14 Years
Burgundy Cask Matured, 411 Bottles from Cask 7
Bottled at cask Strength 51.9% ABV
Notes from the distillery:
14 year old single malt from Edradour, distilled using peated barley – and as such, it's been released under the Ballechin name! It was filled into a Burgundy wine cask in January 2004 and bottled in January 2018 (four days after its 14th birthday), and bottled at cask strength. 411 bottles were produced.
Nose: A generous waft of coastal smoke filled the nose, with underlying blackcurrant sweetness.
Palate: The red berry notes from the wine cask take the lead on the palate, with a hint of chocolate developing along the way. Still richly smoky.
Finish: Cardamom, cinnamon and toasted oak.
Personally this was one of the most unique tastings I have ever participated in. Edradour starts right at the beginning of the experience with the fantastic visuals and feel of their wood packaging. Immediately it looks like nothing else in the market place. Traditionally I'm not the biggest fan of heavily peated whiskies but this was more of a sweet finish rounded off by the burgundy wine finishing. The tasting notes above came through for the most part but still left me puzzled as it was truly one of the most unique flavour combinations I have had the pleasure of enjoying. We weren't able to source within Ontario and had to reach out to our friends and family in Alberta to find this gem. If you are interested in something exciting, daring, unique and truly tasty look no further that the cask series from Edradour.