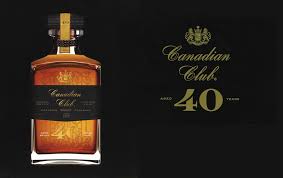 Tasted January 27,2018
It was on our 10 year anniversary meeting that our club sampled the Canadian Club 40 year old Canadian whisky. After sampling so many bottles over the years, I was excited for this one. There aren't many new Canadian Whiskies that get launched, especially ones at this age. I always hope that a higher age really showcases a whisky for all it can be (a measure very rarely met).
Distilled in 1977 this is an all corn whiskey distilled in American white oak casks with just 7000 bottles produced at 45%. But you can find all of that on the label if you can get your hands on what's currently the oldest Canadian whisky available.
I'm generally remain skeptical with old bottles like this because sometimes the distillery has done something radical, or just not very well at all, and you pay more than usual for an experiment that's gone wrong. Thanks to the presentation of this bottle, I wasn't too worried about that here. The bottle itself was refined and classy, and the colour of the whiskey is exactly what you would expect from a Canadian whiskey: rich amber.
Nosing the whisky I remained hopeful that this was an evolution of what Canadian Club does well. The aromas from the whisky presented themselves cleanly with a very to the point sweetness. I could easily pinpoint the caramel that comes with just about all Canadian whiskys (especially the corn based ones), along with maybe a bit of honey and citrus. The caramel was front and center on the nose and detecting much else was difficult (I'd rather be honest here than list everything that might possibly be present like other whisky reviewers seem to, but maybe my palate just isn't as refined as being able to pull 20 flavors out at once).
On the palate, I got a pleasant surprise with a light spice to accompany the sweetness of the caramel. The spice was reminiscent of pepper and clove which did fade to the back. Surprising for a 45% whisky, there was a very gentle numbing with a light but sharp acetone flavor that came with the palate that seemed to help compliment what was going on. Thanks to this, the sweetness was slightly muted and I got a touch of smoke & oak.
The finish was shorter in length and very easy going. The sweetness hung there in my throat for a bit as caramel but also a perhaps vanilla too. The spice that I got on the palate didn't come along for the finish though.
All in all what I found here was an aged corn based Canadian whisky. There was nothing revolutionary involved in this. I wouldn't put it on a 'whiskys to try before you die' list. But with that said if you like Canadian whiskys and are a bit of a purist that doesn't want radical – this would be a bottle for you.
I found the extra time focused this whisky rather broadened it which was interesting in that you get to become really familiar with the foundation of what a Canadian whisky – and really Canadian Club in particular – is at its core.
ET Member: Josh Bruce