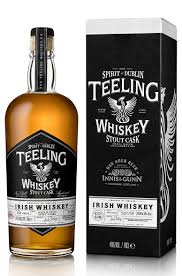 Teeling Stout Cask Finish Bottling Note
The Teeling chaps have collaborated with the Galway Bay Brewery to create this tasty Irish whiskey finished in stout casks! We love the attention to detail on the presentation box as well.
Nose: Chocolatey and rich, with a light hint of rye spice backing it up.
Palate: Creamy caramel and vanilla, with layers of orange and plum.
Finish: Chocolate biscuits, more caramel, a subtle maltiness.