The second Macallan bottle on this ninth anniversary of the club was yet another high-end bottle… Rare Cask.  The presentation of the package, as you can see, obviously makes you want to just crack it open immediately and drink.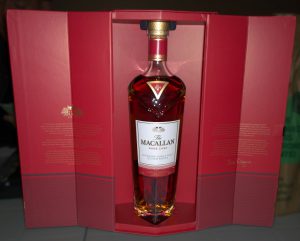 Once poured in the glass, it gave off a very familiar look to the Edition No 2.  A medium dark caramel colour and nice long longs.  A little less hesitant than the Edition No 2, I smelt this glass immediately.  Expecting a strong nose, I was pleasantly surprised to find it was much more mellow.  The difference this time was a growing spice smell that became more present with each waft.
The taste was much the same as the Edition No 2 in the sense of the not very strong flavours.  The biggest difference was the warmth just never came.  Chocolate and sherry came through and the complexity was great, but at the end of the day it felt like it was missing something.  It did not last very long, but it was warm.  Seeing the rest of the crowd adding some water, I did the same.  This definitely proved to open up the flavours more now getting a stronger spice flavour profile, including some honey that I had not tasted on the previous sip.  This now lingered a lot longer and warmer but did something strange.. it just disappeared.  Then 30 seconds later it came back with a warmth low in the belly that lasted for the duration of the glass.
For the $400 (CDN), I was not overly impressed.  While it looked like a step up from the Edition No 2, it just did not live up to the hype.  If I had the money and had to choose between these two, I would choose the former any day.