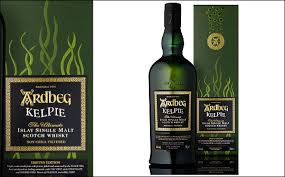 Background Notes from Ardbeg:
An Ardbeg that's said to be "as deep as the ocean" thanks to the use of virgin Black Sea oak casks sourced by Dr. Bill Lumsden from the Adyghe Republic in Russia. Whisky from these casks has then been married with regular bourbon cask matured Ardbeg and bottled for Fèis Ìle 2017 at 46%.
Tasting Notes from Ardbeg:
Nose: A wonderful, intense, 'dancing' nose, with lots of different, intertwined aromas – powerful, oily peat, dark chocolate, smoked fish, hints of seaweed, and a curious, sharp herbal note. Waves of spicy black pepper.
Palate: A peppery mouthfeel is followed by a crescendo of rich flavours. Toffee, Turkish coffee, smoky bacon and lots of dark, dark chocolate. A curious burst of peachy fruit, hickory wood, clove oil and a suggestion of black olives.
Finish: Seemingly lasting forever, with deep, deep, almost subterranean flavours of clove, tar, and rich toffee.
Notes from our member Mark Buchholtz
Absolutely unlike any scotch whisky I have ever had the pleasure of sampling over the almost 10 years of our club's existence.  Let me preface to say that this may have not been the best bottle to sample in the middle of the summer.  This bottle to me, would best be sampled in a fall or winter setting as it displayed an advanced level of warming as the sips of this dram worked from my lips to the back of mouth and down the hatch like a slow viscous liquid that reminded closely to a light olive oil in a homemade salad dressing. To say it was a little bit thicker that your average whisky is bit of an understatement.
Like the distillers note the nose was powerful, bright, warm, full of fresh seaside whimsy, seas salt, peaty, fresh seaweed all intertwined in some sort of magical distillate.  I have no idea how all those descriptions worked together to produce such an inviting aroma…but let me tell you my words do no justice, it was utterly intoxicating and inviting!
The initial taste on the tongue and mouth was warm as you would expect from a bottling at 46% ABV, but there was no harshness at all that might show itself with a peated expression.  I did get a little spice like the distiller mentioned above but it was not overpowering and it really invited you to return immediately for more sips of my dram. I really do not have the acumen of a professional whisky writer, but these are the things that I thought of in no particular order. Light peat, spice, light pepper, oily like a light olive oil, sea salt, the smell and taste like a fresh breeze when you are on the cost in BC or Nova Scotia, sweetness but not too sweet… all combined together to give me the most unique whisky tasting in recent memory.
The finish did last a fairly long time but I had trouble initially judging that because I went back for additional sips sooner than expected because it was so delightful and interesting.  On my last sip of my taster dram the flavour did last a fairly long time, I have to say it was not offensively long. I kept wanting to go back for more because it was so delicious. Tasting this bottle or sipping on it at home would best be done in a fall or winter setting as it is a warmer comforting type of whisky. A cool night by some type of body of water would also suffice as the overall taste and feel evoked memories of a fresh breeze coming of an ocean with gentle wisps of sea salt tickling your nose. In Ontario here one of the Great Lakes or the many bodies of water in the Muskokas would work just a well especially this past summer where the nights certainly cooled down and required jeans and a sweater.
Would I by this for my personal collection, the answer would be a resounding yes.  Ardbeg Kelpie is available here in Ontario, Canada via the LCBO listed at $210.95.
Thank you all for reading and enjoy!
Mark Buchholtz