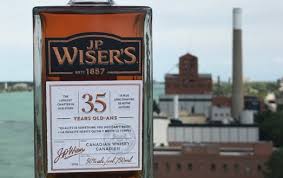 JP Wiser's 35 Year Old Canadian Whisky
Tasting notes from member Brad Raybould:
J.P. Wiser's 35 year old Canadian Whisky was a pleasantly complex spirit and was deserving of the award for Canadian Whisky of the Year. The aging process had mellowed out some of the harsher elements that come with younger whiskies.
The oak is evident as your glass passes under your nose. The first sip gives you earthy notes which build as you continue to enjoy your drink. I must mention that a fellow whisky enthusiast remarked they found the earthy tones overpowering and did not care for them.
It finishes on a sweet honey note, I felt that this was maple but that may have just been wishful thinking of a Canadian drinking an award winning Canadian Whisky.
Overall this was an enjoyable spirit I would have again, if I was lucky enough to find one of what has quickly become a rare bottle.
General Info:
This 35-year-old whisky is part of the 2017 Northern Borders Rare Collection drawn from some of the oldest Hiram Walker bonds. It's a traditional Canadian whisky composed of corn whisky aged in ex-bourbon barrels blended with column and pot still rye aged in virgin oak barrels. Bottled at 50% alcohol. Limited availability in Canada with a very limited allocation in Europe and the US.