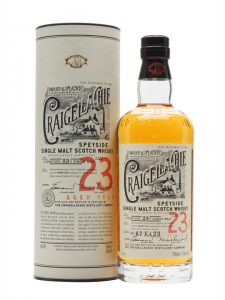 The club recently celebrated our 11 Year Anniversary and this was bottle #2 in our tasting range for the evening, notes by member Adam Buchholtz.
Craigellachie 23 Year Old Single Malt
Specs: Speyside Scotch Whisky
Matured in: American Oak Cask
Alcohol: 46%
Our Purchase Price: $535.85 (LCBO in Ontario)
Nose: The first impression on the nose of this whisky is quite complex. I picked up some peppery notes, with an aromatic spice blend, along with something akin to sulphur. It seemed like quite a pungent smell, with a hint of sea salt mixed in. Absent for me were the fruity notes that are mentioned in many a review of this whisky, however I was so excited to taste it, that it may not have had the requisite time in the glass to fully envelope my senses.
Taste: Immediately I got an old leathery taste, almost rawhide-esk, to go along with a very oily mouthfeel. I was surprised at how different this expression is from their younger age statement bottles. With the taste also came a range of fruits, mostly tropical and citrusy in nature, like pineapple, orange, or even grapefruit. It meshed surprisingly well with the leathery flavours and made for a complex dram.
Finish: Again the oiliness was evident on the finish, with some heat from pepper notes, but also sweet citrus, with a touch of honey. It lasted quite a while, with a dryness to it that allowed it to linger.
Overall: The Craigellachie 23 is a complex scotch, as should be expected from anything that has been matured in American Oak for 23 years. However at the price point, it isn't a bottle that I would strive to add to my personal collection. It is definitely worth a taste if you should be able, but I would not go out of my way for another dram