Presented by Expensive Taste:
The Club had the good fortune of having Josh Groom the global brand ambassador/customer relations guru (not sure of the title) from Gibson's Finest Canadian Whisky in to Kitchener for a guided tasting of four Gibson's Finest expressions.
Prior to our evening tasting, Josh from Gibson's had sent some parcels to our tasting location, which we soon learned, contained three different types of glassware for the event and some other Gibson's swag, more on that shortly.
From the outset this appeared to be a different type of guided tasting than the club has had in the past, and to put it lightly, Josh did not disappoint.  To get the night going Josh whipped up an "Old Fashioned" mix drink for each member mixed with the Gibson's Finest 12 Year Old Rare, simple syrup, bitters and a slice of orange peel.  What a fantastic drink, we would highly recommend using this spirit for your mixed cocktails.
The evenings taster's consisted of the four Gibson's Finest expressions shown below: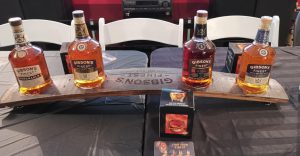 Gibson's Finest Sterling
Gibson's Finest Bold 8 Year
Gibson's Finest Rare 12 Year
Gibson's Finest Venerable 18 Year
After the mixed Old-Fashioned cocktail, we started out with the Sterling, here are some brief tasting notes:
Nose: Sweet and fruity. Mild and slightly floral caramel and rye spices also slight nuttiness
Palate: Creamy with many fruit notes, the fruit, apples, berries, just hints of cherry ice cream – Caramel notes fade quickly, leaving a pleasant warmth behind
Finish: Medium. Fading on tingly peppery spices and caramel. The berry tones return with citrus zest
Next up was the Gibson's Finest Bold 8 Year:
The Bold is bottled at 46% ABV and Josh mentioned that it is finished in a darkened toasted barrel with a level three char.  Josh flipped over the bottle display he brought with him, revealing that  it was a charred piece of the finishing barrel. It was interesting to see the level of char and you could tell how the spirit picked up colour and flavour from the toasted wood finishing.  The maturation process in level three charred barrels made this expression the surprise of the night.
Here are some basic notes:
Nose:  Dark and rich molasses, dense rye bread, orange peel, oak, roasted grain, rich maple butter, coconut cream, hazelnut toffee. Terrific.
Palate: Rich grain, corn, rye – alongside some peppery spices, plums, orange, and a light coating of oaky vanilla. Seeing this at 46% makes me wish Gibson's did this with all their whiskies – it is a phenomenal difference in ramping up flavour, spice, and finish.
Finish: Lots of sweet grains, cinnamon, and clove. Slightly tangy- and very nicely dry, so smooth.
Gibson's third offering of the night is the one that's most familiar, the Rare 12 Year, colloquially known as "Gibby Gold" amongst the members of Expensive Taste KW as this expression was once called Gibson's gold.  With the Gibson's brand this is the whisky I most identify with and is always a go to when I am in the market for Canadian whisky.
Here are some notes on this delicious expression:
Nose:  Sweet fruit with oaky notes, wood does not overpower, butterscotch, apple, cherry, dry tobacco leaves followed by milder suggestions of dry grain, impart greater depth
Palate: Sweet and silky, but with lots of bitter citric zest, fresh-cut wood, spicy white pepper and hints of ginger, pepper and cinnamon. Fresh fruit and inklings of rye spices including cloves and Christmas pudding round it out.
Finish: Medium long, hot and peppery, some sweetness, citrus, fading while the pepper lingers.
To finish off the tasting event we had the pleasure of tasting Gibson's Finest Venerable 18 Year.  What a fantastic whisky, this is such a smooth, more complex dram thanks to the increased maturity.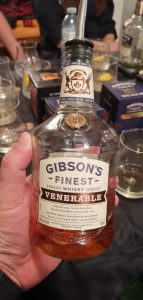 Nose: Very creamy sensation from the start, with oaky caramel, butterscotch and vanilla aromas that seem more like creme caramel, plum, pear, something slightly nutty.
Palate: Much the same flavours as found on the nose, with even more vanilla up. Luxurious creamy mouthfeel. Rye "baking spices" (nutmeg, cinnamon, touch of cloves, a bit of bourbon sweetness throughout. Finally, a touch of bitterness
Finish: Sweet, creamy, smooth clean finish, with a touch of vanilla
Overall during the tasting event Josh from Gibson's was a fantastic storyteller, delivering the background history of the brand in an engaging and exciting way. He was able to immerse us in the world of Gibson's Finest.  In addition to the glassware that was provided to the club he also had additional brand swag with hats, books and Gibson's Finest tin bar signs.  Overall, this strengthened my and the clubs love of great Canadian whisky, it worked pretty-damn well as just the other day I picked up a bottle of the 12 year.
Get yourself a bottle of one of these fine Canadian Whiskies and you will not be disappointed.
Thank you again to Josh for the great entertaining evening with four wonderful expressions of Gibson's Finest Whisky!