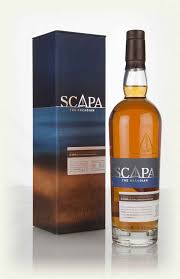 Scapa Glansa,
The name Glansa is taken from Old Norse and means 'shining storm-laden skies'
Limited Availability at the LCBO
40% ABV
$83.60

I'm reminded of an early damp spring morning, with a blustery wind at my back. I have selected my driver as I'm not sure I can reach the par 3 220 yard 10th hole at Orkney Golf Club. This old style classic Scottish links course is providing quite the test for my amateur at best golf skills. With the salted bite of the cool sea air in the breeze, I am reminded of my hip flask full of this warm mysterious dram, picked up on a visit yesterday to the nearby Scapa distillery about 2 kms down the Scottish countryside. I pause to look over the the lush green landscape and the nearby shoreline. I take a swig of the Scapa Glansa… I'm instantly warmed by the light peated flavour and taken back to days gone by.  The sweet palate brings a euphoric sense of pleasure to my taste buds. As the finish finds me like the sunshine that has opened the clouds and has brightened up this old style links course. I am warmed by not only the rays of sunshine, but the warmth of this succulent dram, shame I am drinking it out of the hip flask as this whisky needs a proper Glencairn. I take a deep breath and a whisper of the salty warm delicate smoke fills my nostrils and tickles my senses. I smile and know that this will be a dram that provides the inspiration to approach this daunting par 3. I tee it up and unleash my swing, the swing and contact is pure. The brisk breeze knocks my drive down short of the green but in relative safety. I go for another nip and I am reminded why I made the trip from the mainland to the Orkney Islands during my travels to Scotland last year. As I sit crafting these notes in my basement bar, all it takes is the pop of the cork on my bottle of Scapa Glansa to transport me right back, to a place I would love to visit time and time again. Hey, maybe one of these times I'll even par that 220 yard par 3.
Scapa Glansa is highly recommended, let this dram transport you on a taste adventure to the Orkney Islands.
For more information visit
http://scapawhisky.com/
Joshua Campbell