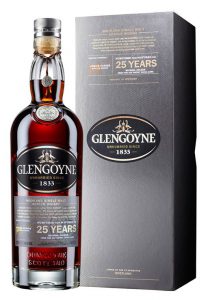 On January 26, 2019 we had a the opportunity to have the Glengoyne 25 Year Old as one of our featured tasters as we celebrated our 11 Year Anniversary as a Whisky club.
Club member Tamara has added her notes:
Glengoyne 25 Years
Specs:
Highland Single Malt Scotch Whisky
Aged: 25 years
Matured in: Sherry Cask
Alcohol: 48.0%
Our purchase price: $485 CAD
Glengoyne 25 was not a hard sell on me from the get-go, generally being a fan of sherry casks.
Rich & spicy, with no peat, this whisky is a beautiful and impressive amber colour, a baseline signature of the sherry cask. My first impression, it tastes like it looks! On the brown sugary sweet side, but not too sweet, it reminded me of Grandma's Christmas fruitcake, which would perennially appear on the kitchen counter around December 25 throughout my childhood, and which would still be there come March, mysteriously intact. I never developed the taste for indestructible cake crammed with old dried fruit, but I'll take these homey flavours in my whisky. Throw in a little orange flavour, a few nuts (walnuts, almonds?) and bam! A bottle that I certainly would include as a highlight of my personal collection. Apologies however, the LCBO does not carry this bottle, making it difficult to obtain in Ontario.
Other common comments from online reviews are notes of old leather, cinnamon and licorice, which were not the stand out elements for me in sampling this bottle. Kensington Wine Market reviews this whisky on their website as "one of the best releases by any distillery in the last few years". This whisky also won Gold at both the Asian Spirits Masters 2018 and the San Francisco World Spirits Competition 2017.
The distillery's slogan, "Unhurried since 1833", reflects perfectly in this bottle. Very easy to drink and a definite go-back-for seconds experience. Overall, a great selection for those who want a complex, rich whisky without the smoke. Skip the dessert, just have a Glengoyne!
Wow what an endorsement, if the above notes strike you we would highly recommend this Glengoyne expression.  Cheers!